Today we return home. After a late breakfast we waited in the hotel lobby for our limo transfer to the airport!

Our flight was scheduled for 16:35 p.m. and we were there early enough to see the Boeing 747-400 series arrive from London. There are only a few of these aeroplanes still used by major carriers. These planes changed aviation and travel since their introduction in the 1960s, but more modern materials and avionics have left these relatively slow and clunky aeroplanes behind.
It was fitting that as we taxied to take off we passed the 1950s Pan-American Airline's Terminal and Control Tower with what was then a futuristic design. Now the Boeing 707s and 747s are not to be seen in its shadow.

We departed westwards turning over the Pacific, passing San Diego, to head northwest over the deserts of the southwest USA to Lake Michigan and Lake Huron before following the St Lawrence River to Labrador (Canada) and then to the Atlantic Ocean.
Sunrise saw us to the northwest of Ireland with views of snow covered southern Scotland, landing at London Heathrow nearly 30 minutes early. This was because of the push from 174 mph winds.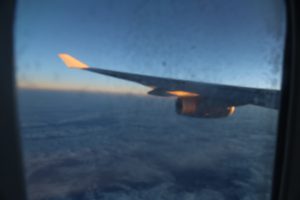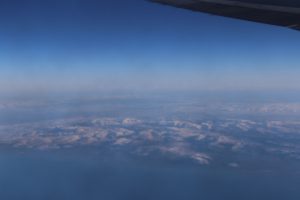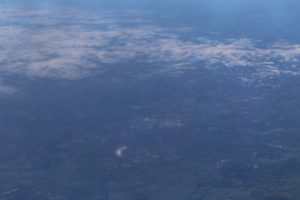 We transferred to Manchester where we caught views of the Pennines close to Mottram. It was not the usual approach as traffic was light and we were allowed a shortcut. In 3 weeks we have travelled more 20,000 miles.