At the moment we are prevented from exploring the high seas but we have found the next best thing! It is the Midland Hotel in Morecambe, Lancashire. It is often described as an Art Deco (1933) masterpiece built as a curve similar to the superstructure of an ocean liner's bow of the same time. From here there are uninterrupted views across Morecambe Bay to the Irish Sea and the Lake District.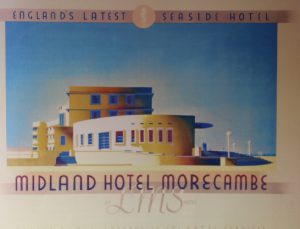 The hotel was built by the London, Midland and Scottish Railway and named the Midland Hotel as a reminder of the railway that started tourism in the town.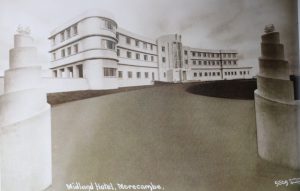 Adjacent to the hotel is the Stone Pier with the remains of its railway station and lighthouse where passengers from trains could transfer to ships for Ireland, the Isle of Man and Scotland. The success of the Midland Railway meant that a new railway station was needed and it was built on a site that is now across the road from the hotel. This led to the eventual closure of the Stone Pier terminus and shipping transferred to the bigger port at Heysham.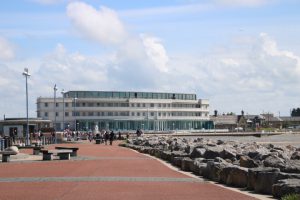 Lancashire has a reputation of being industrial and the 'cottonopolis' of the Industrial Revolution. However, many parts of the county are beautiful and remote. The Midland and other railway companies tapped into this from the 19th – 20th century. Posters declared that resorts like Morecambe had something for everyone, but especially, the clear air and the tonic of ozone.
As mentioned earlier, Morecambe is a product of railway development from 1889, but this development only made the town, established by the Morecambe Harbour Company, bigger. The sands of the Bay were the 'wide open space' attraction but by the 1920s and 1930s larger numbers of tourists led to the building of piers, swimming pools, hotels and entertainment venues.
The posters are photographed from a National Railway Museum book about railway art of the 20th century.
During dinner the tide came in and began to obscure the sand. This was followed by a brilliant sunset.