Today turned out to be the longest day of the voyage! It started late Friday night when, after 10:00 p.m.we were informed that we had just made "The Cut" of the age of 70. We slept soundly knowing that we were likely to leave this ship. Breakfast was early, a sign that disembarkation were going to take place. But first we had to pass the medical test. These started at 9:00 a.m. Shortly after 10 there was a knock on the door. It was the medical unit. Temperature sensors to the forehead, can you walk unaided – you are go. We waited until the doctor had moved down the corridor then let out a little cheer!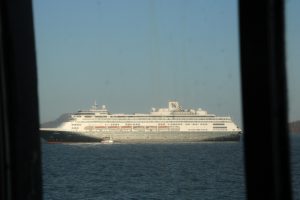 With packing complete we had to wait for the Rotterdam room keys and baggage tags and most importantly the next knock on the door. Around 1:00 p.m. the Captain announced that things were going well with about 60 guests evacuated in an hour. This was slow because everything and everyone leaving the ship had to be thoroughly sanitised. When we receive the knock we will have to leave the room without touching anything except our suitcase. We continued to wait.
At 4:15 p.m. there was the knock. It was the steward delivering the room keys. "On the next knock please stand up and go", said the steward. It seemed a long time before the next knock but it wasn't. Off we went down the corridor keeping appropriate space between others and descended, one person per lift, to A Deck. Here our luggage was taken from us and we were sanitised along with the hand luggage. We checked out of the ship and on a signal walked down to the tender and were directed to our seats. It was pretty choppy alongside the ships but the journey was pretty spectacular with sun and spray. (Pity you can't see the photographs!) We were sanitised again on arrival and within the hour were settled in.
The artwork in our room records an aspect of Dutch maritime history. All of the HollandAmerica ships have corridors full of similar images. Ours is a print of a port on the former Zuider Zee. Small towns such as these are now promontories sticking out into the inland sea as over more than 2 centuries land has been reclaimed. These small towns still function as ports and marinas. The ship on our picture is moored at the wooden jetty attached to the island by a wooden bridge. The island is protected by a barrier of big rocks. These were imported as there are no rocks like this in the region. The ship we see was a passenger and mail vessel that linked the communities along the shores of the inland sea.