After breakfast in the shadow of the CN Tower we explored the original city centre of Toronto. Here is Union Station where transcontinental passengers could break their journey at the Royal York Hotel (The Fairmont today). Along Yonge Street brownstone towers of the late 19th and early 20th centuries were towered over by more modern structures. Here we found the Eaton Centre, which when first opened, was one of the biggest shopping malls. Not anymore! It was interesting to note that this is partly operated by the Hudson's Bay Company.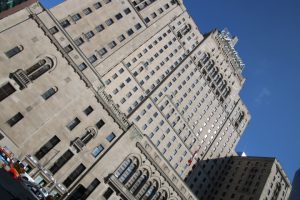 Nearby was the 19th century City Hall overlooked by its curved white concrete 1960s replacement and public skating rink. We returned to the hotel passing St. Andrew's Church completely surrounded by glass and steel buildings.
We complete today's Blog at Toronto Pearson International Airport, Gate C36 as we await the boarding of our Icelandair flight over the traditional route via Gander, Greenland, Iceland, Scotland and finally Manchester. It is still sunny, warm and humid here and we hope that the North Atlantic storm is not going to "rain on our parade'.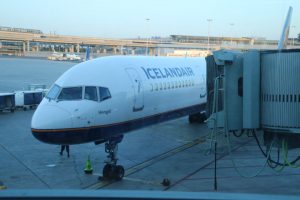 We arrived home Wednesday lunchtime having travelled 11,800 miles. This is the area of Northern Canada where we spent our time in search of the Northwest Passage.