Wednesday 6th April
We left Newark Liberty International Airport somewhat late as the original aeroplane experienced a mechanical failure on Iceland and so a replacement had to be found. At the airport we were able to see how the setting sun illuminated the high buildings of Manhattan.
Once under way we followed the old Great Circle route across the eastern seaboard of the USA and the Atlantic Provinces of Canada before a short hop over the Atlantic to southern Greenland and on to Iceland. This was necessary because our Boeing 757 was a non-ETOPS plane which meant that it had to stay within about one hours flying time to an airport in case of an emergency. There was a very quick change of planes on Iceland and on take-off one could see the former campsite used on an earlier Lisle expedition and the ice sheets extending eastwards.
After a bumpy landing because of strong winds we landed at 12:45 p.m. This is only 10 minutes late because the jet stream pushed both planes to enable us to cut the delay.
After nearly 26,000 miles of travel and 10 countries we feel amazed that without relying upon aeroplanes one can cross the globe, feel safe, be well fed and arrive on time. Only the last aeroplane let us down, but only just!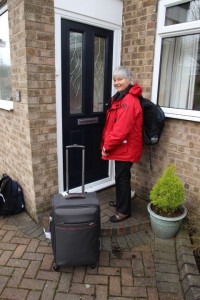 We have had a wonderful few weeks, seen fantastic scenery and sights, met lots of interesting and welcoming people and until this morning all were non-Europeans.