For most of the day we have been on board a ferry that enabled us to journey from the Golden Horn, through the Bosphorus to just short of the Black Sea. Many people think that this is the best way to see Istanbul because you get a different perspective on the city, the skylines and the sea. Having left Eminonu Pier, the cities busiest ferry terminal, the ship clips the entrance to the Sea of Marmara before turning into the Bosphorus proper. The journey took us past palaces built during the Ottoman Empire, past small villages on the Asian side, modern Istanbul suburbs on the European side and along a water filled rift valley with steep wooded sides.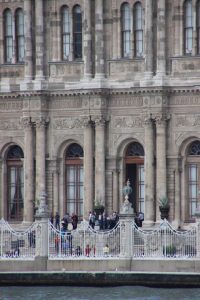 We continued beneath the Bosphorus Bridge. Completed in 1973, at 1510 metres in length, it was the first to link Europe and Asia.
Further on was the second Bosphorus Bridge completed in the late 1980s and of a similar length. It was interesting that as we neared the entrance to the Black Sea a much bigger single stay suspension bridge was under construction.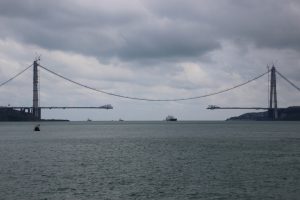 Towards the end of the journey we past the village of Sanyer, the main fishing port on the Bosphorus and saw its fleet of purse-seine net fishing boats at work.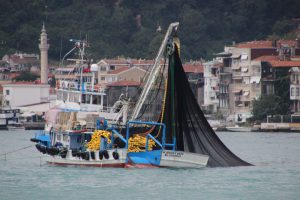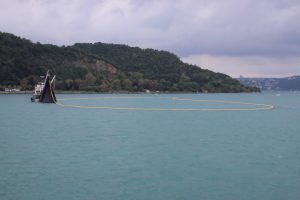 We took lunch at the village of Anadolu Kavagi on the Asian side. Our return journey gave us a clear view of the castle known as 'The Fortress of Europe' (Rumeli Hisan). This castle was built by Mehmet the Conqueror in 1452 prior to his attack on Constantinople. Following this, this castle and a similar one on the Asian side taxed vessels using the Bosphorus. This was a lucrative business as it is the only sea route from the Mediterranean to the Black Sea and the countries at the heart of Asia which provided many of the silks and spices traded in Istanbul and further west.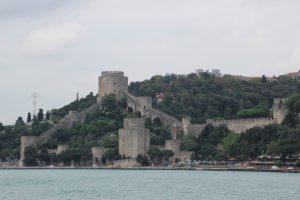 Finally we returned to the main city area.