Today we explored the Sultanahmet quarter. Our hotel is a stones throw from the Blue Mosque which dominates this part of the quarter. It was commissioned by Sultan Ahmet I and he want to surpass the size and beauty of the nearby Haghia Sophia. The work was completed in 1616 and has become one of the most beautiful mosques in the world popularly known as the Blue Mosque because of its blue tiled interior. It has six minarets which made it equal to the great mosque in Mecca. The tiles of the interior are of a Chinese pattern and used lots of turquoise, purples, greens and coral reds from minerals transported along the Silk Route.
Passing through the Sultanahmet Meydani park we came across the Haghia Sophia, or the Church of Holy Wisdom. It is thought by many to be one of the world's foremost architectural wonders which was inaugurated by Emperor Justinian in 537AD. It was converted into a mosque in 1453.
Across the road is the Basilica Cistern (Yerebatan Sarnici). This is known by many as the 'Sunken Palace' but it had a mundane purpose as a vast underground water storage tank hewn into the porous limestone. This allowed the cistern to store the groundwater. It was begun by Constantine and expanded by Justinian in 532AD to ensure that Constantinople was always supplied with water. It once held 80 million litres of water and its roof is supported 336 pillars of 8 metres in height. Today Istanbul's water comes from other sources and there is only a small amount of water in the cistern.
Our walk continued to the Eminonu Pier which is the hub of ferries that traverse the Golden Horn, Bosphorus and the Sea of Marmara. Here are terrific views of the Istanbul skyline. The Golden Horn is crossed by the Galata Koprusi Bridge. It is a double decker bridge with traffic on the top deck and restaurants beneath. The original was an iron pontoon structure built in 1912. It was small but it pontoons blocked the flow of water and trapped pollution in the Golden Horn. We had lunch on the lower level and shared the experience of fishing from the top deck as lines passed us going up and down.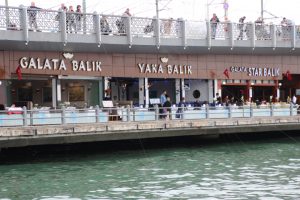 The Eminonu waterfront is backed by Byzantine warehouses and markets which traded the silks and spices from the Far East brought here for centuries in a combination of land and sea journeys.
This evening we ate on a roof top terrace overlooking the Blue Mosque and the Sea of Marmara.