We moved on from Samarkand to the sprawling city of Tashkent. We left Samarkand on the 10:34 train, leaving the city shrouded in mist with a cool 5 C compared to yesterday's 16 C. The gloom never really lifted until we reached our destination. Our train used the valleys to cross the low mountain range, known as the Turkistan Range, to the town of Jizzakh where we left the old railway line to follow the route of the new high speed trains (one of which we saw in Samarkand).
En route there was lots of evidence of how the rivers from the mountain range had been influenced by human action and lots of erosion of the hard river banks showing that this form of human action is inappropriate. There were many small farms alongside the tracks, a lot of them with beef cattle, fruit trees and rice fields.
We arrived in Tashkent in sunshine and quickly transferred to the 17 storey Hotel Uzbekistan which dominates Amir Timur Square. We are on the 16th floor.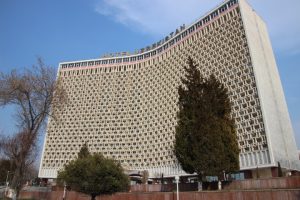 Tashkent was founded in about the first century BC and by the time the Arabs captured it in 751 AD it was a major caravan crossroads. This is illustrated by a statue outside the hotel.
We end the day with a meal of lamb kebabs and delicious fries with local beer and have returned to our room to scan the TV channels. This is our view of central Tashkent.