Our morning started with an exploration of the Grand Bazaar (Kapali Carsi) which was founded in 1461 by Sultan Mehmet II. The bazaar was designed as the trading heart of an empire and today is still piled with carpets, jewellery and spices. When first built it had travellers accommodation, a bath house, mosques and school as well as shops, storerooms, cafes and money exchanges. Many streets are given over to specialist sales such as Jewellers' Street. At one time each part of the bazaar had its own specialism as indicated by the street names. So there were slipper, mirror, fez, quilt, thread and fur makers. Today, however, we saw these items arrive in boxes and bags. There are 22 gates leading into the covered bazaar and one is marked with an inscription that when translated means 'God loves tradesmen'.
Later we strolled past the fishermen on the Galeta Bridge before witnessing the arrival of 2 cruise ships on the Karakoy waterfront which is opposite the Eminonu Terminal. One of the cruise ships was the Queen Victoria.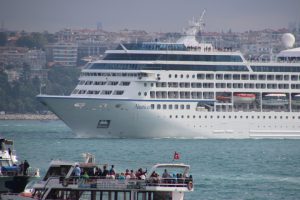 On our return to the hotel we engaged in a touch of tram spotting as many of them are mobile advertisements.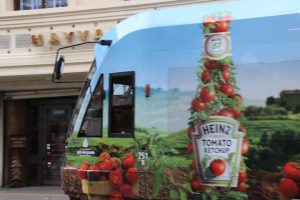 To complete the exploration we went underground at our hotel to see the remains of another cistern cut into the limestone rock. After posting this we fly home to Manchester to prepare for our next trip!