Thursday 27th February
Yesterday we spent the morning in Ushuaia before departing to Buenos Aires arriving in the evening. After check in at the hotel we went to our favourite barbecue restaurant for lots more meat on the bone. This morning we have explored Buenos Aires by foot seeing the French side of the city and the mausoleums in the Recoleta cemetery. Another meal followed and we soon we will be boarding the Air France flight to Paris then onwards to Manchester.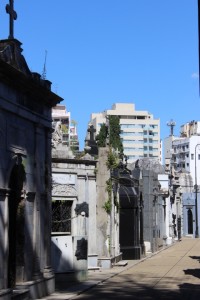 Our hotel from the cemetery. Our room is the second floor down from the top and on the far right.
Our favourite restaurant is the one to the right of one grey roofed building and in front of the other at edge of the cemetery. It is the one with a circle on a white background!
We have had a fantastic time which words cannot convey!